Pinks Concrete Design provides concrete and masonry services to home owners and commercial property owners in Connecticut.
One of our specialties is applying decorative concrete overlays in basements throughout the state. Due to moisture issues in Connecticut, New York and Massachusetts, moisture remediation and flooring has become a big part of our business over the past 12 years.
If you have any questions please call us. In the meantime we will be posting reviews about products that will be helpful.
Please send us your questions. Below is one we recently received.
Can I Pour Concrete Over Radiant Heat in My Basement
Question – "I recently purchased a home with a finished lower level on a concrete slab. I am interested in removing the existing engineered hardwoods and polishing the underlaying concrete. The floors have yet to be removed, so I'm not sure if we will need to first add a re-leveling layer of concrete.
We were hoping to add radiant heat – however, I'm not sure it is possible where there is already an existing slab. Do you know if that could be done without raising the floor height more than a couple inches? Will any of your products work well with this application?"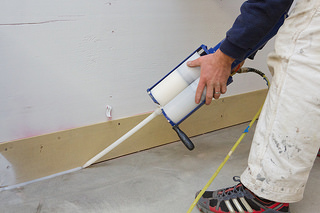 Dan Answered – "There are no products available on any market that can be placed over radiant heat at less than 3 inches thick. I just had an architect from Harvard (point is even a Harvard Architect doesn't know this)  that didn't listen to me and poured less than 2 inches over tubing. As soon as heat was turned on the floor cracked and needed to get ripped out."
"The issue is you need to go minimum thickness of 3 inches over radiant heat to ensure that it will not crack and fail. I have gone over radiant matts in the past, with self leveling concrete that cracked in some areas. By the book self levelers over radiant should be 4 inches thick, but you can get away with 3 inches if you have someone pouring the concrete with experience who watches the water ratios and uses the right aggregate."
"The issue with radiant matts are the bonding surface between the slabs. I know many installers who have had the floor delaminate from not having the proper surface area for the new substrate to bond to the existing slab."
"On a good note we do a lot of concrete overlays in basements with a polished natural finish. It is very rare that a person gets to polish an old existing substrate, you never know what you're going to get.
The makeup of the ready mix concrete is usually odd. You may expose aggregate in some areas and not in others. Even on commercial floors we have seen all types of weird floors. Most pictures you see online have a self-leveling overlay applied. They are made for polishing so you know exactly what you get. Keep in mind that there are ways to create a polished concrete appearance without grinding the floor.
The issue with grinding residential floors (especially basements) is getting the polishing machines into the basement. You get a polish from the weight of the machine. Quality polishing equipment is very large and heavy. Our machines weigh over 350 lbs not including the vacuum, which is a separate very large component. Unless the basement is wide open, it will be a daunting task.
We have been using overlays and making them look polished without grinding for years in residential. Please let me know if I could help you further."
Basement Product Reviews