The 2 most popular areas for decorative concrete floor coatings for our Greenwich Connecticut customers are garages and basements.
So which ones do you choose? Let's look at the options.
Industrial Garage Floor Epoxy Systems
High Performance Epoxy – You may not be aware of this but there are numerous grades of epoxy from thin paints to ultra high build systems that withstand chemical spills and forklift traffic.
They are available in numerous colors with grey being the most popular for garage floors. Thin epoxy paints rarely perform in garages due to the low adhesion and low resistance to hot tires.
It's typical that they look great when applied, but can peel off the floor after the first use.
If considering a system for your garage, consider a high performance system.
For car collectors, there are unlimited design options, but choose performance first.
Color Flake and Quartz Epoxy Systems – Looking for a decorative element? We can broadcast full or partial decorative color flakes into the epoxy while it's still wet. Once cured, the flakes are locked in permanently.
The same process applies to colored quartz. Quartz is a mix of various colors. For example, if you like bluish grey, you can choose a mix of blue, white, black and grey. This is a popular garage floor system but not typical for basements.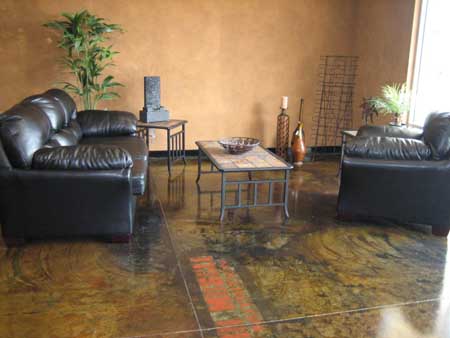 Metallic Epoxy Flooring – Metallics have become very popular nationwide. They come in various colors and are highly decorative.
These are not like choosing tile where you know the exact final appearance. No two floors will ever look the same. Even on the same floor, one area will look different than another.
If you're picky or a perfectionist, proceed with caution. Once the metallic epoxy is applied there is no turning back. If you don't like the result, it can be ground off with mechanical machines or a new coating can be applied.
These can be applied on garage floors and suitable for basements as well. They are extremely popular for restaurants and retail stores.
Cement Overlays and Polished Concrete
There are misconceptions about concrete polishing. To the professionals and product manufacturers, polished concrete is the process of using mechanical grinding machines that weigh 500-1000 lbs or more.
The process starts by grinding concrete, creating dust that is vacuumed with high power machines. The process includes using grinding blades followed by polishing pads effectively starting with course then working towards fine.
The end result can be a matte or gloss finish. However, the polish process just explained is not appropriate for every floor.
Many consumers want a matte or gloss finish but without the roughness of polished concrete. It's important here to mention that some floors polish extremely well, some don't. All concrete is different. There is old concrete, new, soft and hard.
If the concrete was poured in 2 or more different batches, a polished floor can look different from one section to the next.
Self leveling concrete and overlays provide an option. These are cementitious products that are mixed in 5 -15 gallon containers. The cements are the consistency of pancake mix with various additives and aggregates to increase strength. They can be colored during the mixing process and topically colored with dyes.
Self Leveling Concrete – This product is applied at a thickness of ¼ – 3/8 inch thick though can be thicker if needed. As the name implies, they self level when spread out over the floor. Some are used as underlayments for tile or hardwood, others are ideal for creating a polished, natural appearance. Great for basements, home theaters and game rooms.
Micro Toppings – These are thin coatings applied at a thickness of 1/16th Inch. They can be colored during the mixing process then applied to the floor. If you want specific designs that can be rendered. As you can see in the images, custom floors can be created with the appearance of tile.
We can also provide you will the appearance of natural grey concrete that is very popular in art galleries, luxury retail stores and restaurants.
Concrete Coatings in Fairfield and Westchester County
We are decorative concrete and epoxy installers serving Fairfield and Westchester County. Many of our completed projects are in Greenwich, Stamford, Darien Connecticut , Bedford and Rye New York.