Restaurant Floor
Restaurant Floor: Epoxy Coating is the Way to Go
A restaurant floor must be durable enough to withstand the wear and tear of daily foot traffic. If the concrete floor in your restaurant is giving a dreary and tired look, with stains of oil, spills and grease, you need a slip-resistant, durable, and colored concrete coating complementing the décor theme of the restaurant to add to the glamour of your space and make it aesthetically pleasing. At Pink's Concrete Design, we can create that perfect restaurant floor for your facility, which is skid resistant, attractive, functional, and highly durable.
Epoxy Floor Coating Systems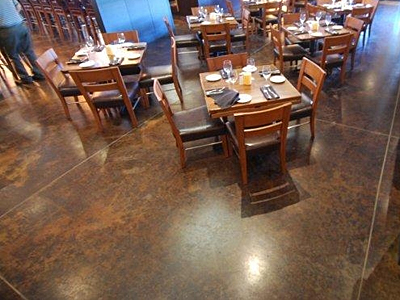 When it comes to installing a restaurant floor, it is all about using decorative concrete that requires little maintenance, is slip resistant, and easy to clean.The style of your epoxy floor paints can help you redefine your space, while creatively showcasing dramatically expansive architecture and welcoming guests with company floor logos. Pink's Concrete Design professionals are Resin floor coating specialists for hospitality facilities, who can add interest and glamour to the space with distinct coating texture, color, and patterns.
We pride ourselves on our flooring solutions that resist hardest of stains from spills and heavy foot traffic, helping keep your restaurant floor surfaces looking great. Flooring experts at Pink's Concrete Design leverage our experience to create a decorative masterpiece that easily attracts attention. We are happy to offer custom concrete design finishes for our clients from the hospitality sector, meeting your specific flooring and design needs.
Whether you are looking for a solid color, specific pattern or a magnificent design, you can trust our team of experienced installers to help you throughout the process, from selection and design to final installation. Our remarkable range of eye-catching restaurant floor systems provides innovative concrete coating solutions to create an elegant dining space, which is functional, sanitary, safe, and requires minimal maintenance.
Restaurant Floor Coating Solutions for You
Our team is experienced in all aspects of installation and design of restaurant floors, creating a welcoming, clean, safe, and healthy environment for your staff and customers alike. Whether you are opting for polished concrete, stained concrete, thin skim coats, self leveling overlays or wish to have graphic design incorporated into the flooring, we can custom design your restaurant floor with your chosen colors, texture, and pattern for a more personalized experience for you.
Our concrete designing and technical solutions teams are loved by clients from the hospitality sector, including restaurants, diners, cafes, bars, clubs, all around the region, providing affordable results that last for years. Regardless of whether you are in need of flooring for the dining room, kitchen area or both, you can count on us to provide you with attractive restaurant floor results in West port, Stamford, Greenwich, New Canaan, Darien, Rowayton, and nearby areas. We have a huge client base in and around the region.