Just like maintaining an exterior wood deck, sealing your concrete is important for long-term durability and appearance.
You may not be aware of it, but concrete is porous. Dirt, mold, algae and moisture settles into tiny pores causing premature deterioration, cracking and spalling.
If you are looking for a primo sealer, check out the reviews by clicking below.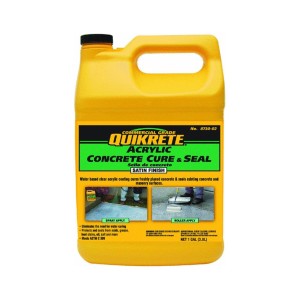 Quikrete Concrete and Pavers Sealer Reviews Click Here – (4 & 5 Star Reviews)  This is a contractor grade acrylic water-based sealer for pool decks, patios, sidewalks, driveways and masonry surfaces.
It can be easily applied with a garden style pump sprayer with a satin sheen.
You might find the following article helpful from Sard-Info.org:
"Once you have completed your beautiful pool deck, your walkway and your concrete patio and you want your investment to last for a long time. You can make your stamped concrete last longer by using the right sealer and if done right, your … Read More "
If you are not looking for a do-it-yourself solution, contact Pinks Concrete Design. Pinks is a full service decorative concrete and restoration company in Fairfield County, Connecticut.
Our contractors and masons have a vast portfolio of completed projects including pool decks, patios, basement and garage floors, commercial kitchens in restaurants, epoxy coatings in warehouses and medical facilities.
Brick Pavers in Fairfield County Connecticut
If you are looking for a sealer for your pavers, Click Here 
Pinks provides paver installation for all property types. If you need yours restored or looking to al installation for your driveway or patio, give us a call. We serve residential and commercial customers throughout Connecticut
You might find this Pavers Article Helpful 
"Brick Paver Patios and landscaping blocks have become increasingly popular in the last 10-20 years. They offer an alternative to regular plain white concrete by adding old world charm which resemble walkways and streets …Read More"